Wallace Marine Park to Wheatland Ferry
Safety Alert:
Approach the Ferry crossing with caution and only cross it's path while it is docked and/or loading vehicles.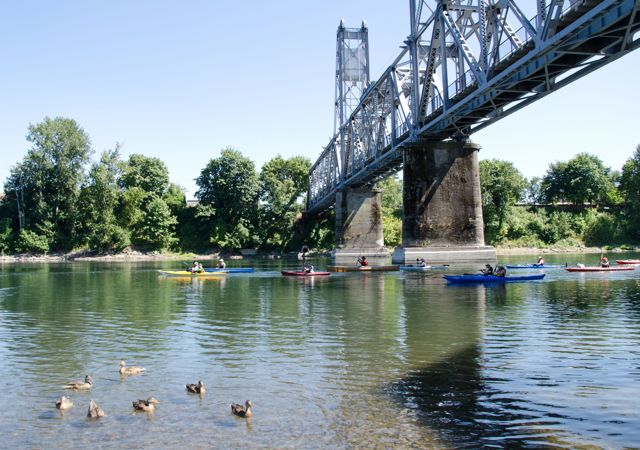 Wallace Marine Park - RM 84
Wheatland Ferry - RM 72

Lincoln Access, Windsor Island, and Wilamette Mission State Park all provide an abundance of scenery, wildlife and history, all with easy access from the city. You can also find a couple of nice campsites on this stretch.

The river is mostly wide and gentle, with only Keizer Rapids providing a bit of current and strong eddy lines here and there. Good for canoes, kayaks, and drift boats. There can be a strong headwind in the afternoon.

Wallace Marine Park has free day parking, but be mindful of what you leave in your car. Parking at the first lot for the non-motorized boat launch seems better than the boat ramp parking area at this time. A paddling partner or a cart to get your kayak or canoe to the water is helpful at this location.
Unfortunately the restrooms had to be closed at this park.

At Wallace Marine Park, launch from the large gravel bar, known as "the old boat ramp" beneath the pedestrian bridge. This is a scenic paddle that is accessible from the heart of Oregon's state capital! You can poke up Willamette Slough tucked behind Minto Brown Island, or head straight downstream. There are a few backchannels that you might explore (always with caution and at your own risk due to the potential presense of wood strainers) on river left (such as behind McLain Island and Darrow Bar). The gravel bar below Keizer Rapids Park as well as Spongs Landing, both on river right, make for nice mid-trip lunch breaks.

When you take out at the Wheatland Ferry on river left, your shuttle back to your vehicle is appriximatley 20 minutes on mostly one road (Hwy 221).