Wheatland Ferry to San Salvador
Intermediate
2 Days
15 miles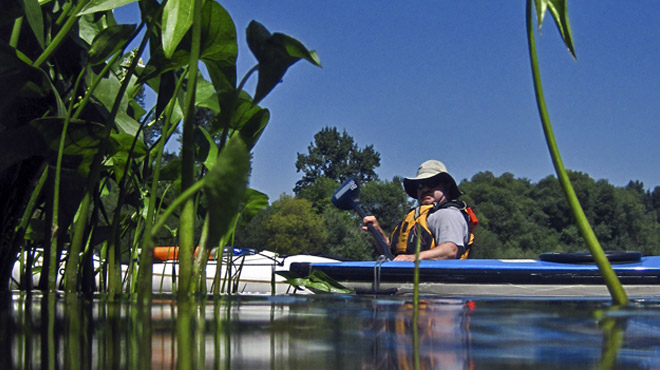 Wheatland Bar - RM 72
San Salvador - RM 57

It provides a wonderful look at the backchannel of Wheatland Bar, immediately across from the put-in, and you can also enjoy riverside wine tasting at Arcane Cellars at Wheatland Winery and Vineyard.

This stretch is fairly wide and flat, with gentle current in the summer months. Canoes and kayaks work well here.

If you launch from Willamette Mission State Park on river right, it has fee parking and restrooms. San Salvador has parking on gravel lot, it is a remote location, so don't leave valuables in your vehicle, or park elsewhere if you plan to leave your vehicle overnight (perhaps consider extending your trip to Newberg's Roger's Landing). Camping highlights include Arcane Cellars (contact them for approval first), Grand Island or Wheatland Bar, DSL Island, Nicol Sanctuary or Five Island.

The backchannel has state-owned lands on both sides. A couple of nice islands can be explored on this stretch. There are several camping opportunities on state lands and a wide slow-moving channel along the last few miles into San Salvador State Park.

Another highlight of this stretch is Arcane Cellars at Wheatland Winery and Vineyard. This is the only riverside vineyard that is easily accessible to paddlers. Here you can vist their tasting room to enjoy their wine, play a round of bocce on their court, or bring a picnic and admire the view. To visit the winery, get out at the Wheatland Ferry on river left, and walk down Magness Rd. immediately on your right. There is also access from the backchannel in the summer and fall when the river level is lower.

Whether you camp or just hike, be sure to explore one of our newer sites- the Nicol Sanctuary.  There is a nice group camp site here as well as a signed "Loop Trail" that is enjoyable to walk. Willamette Riverkeeper owns and stewards this property.

From Interstate 5, take the Keizer exit (260A) and follow Lockhaven Drive to River Road (Highway 219). Head north for about a half mile and veer left onto Wheatland Road, then travel for about 7 miles, following the signs to Wheatland Ferry. The turn for the Willamette Mission boat ramp is just before the ferry landing.