Hawthorne Bridge to Cathedral Park
Safety Alert:
Do not leave any valuables in your vehicle at any location in the Portland area. There can be large vessel traffic in this reach so be aware, and give those ships plenty of space. While the Portland Harbor is designated as a Superfund site, it is safe for paddle craft recreation in terms of public health as the majority of the contamination is in the river sediment.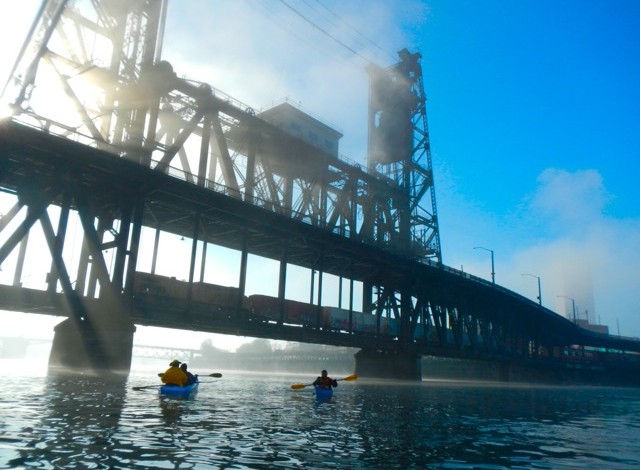 Hawthorne Bridge - RM 13.5
Cathedral Park - RM 6

This is a fascinating and seldom paddled stretch of the Willamette.

Works well for canoes and sea kayaks. Large tugs and boats can create significant wakes, which one should be cognizant of if you are next to hardened surfaces where the waves rebound.

On weekdays, a parking lot located at SE Water Ave & SE Clay in Portland has been limited to "2 hour visitor parking" spaces, or anywhere after 3pm. On the weekends, traditionally one may park anywhere in the lot. Recently the new ownership of the building has created some uncertainty about parking – Willamette Riverkeeper will update when we get clarification. Depending on water levels and weather, the public ramp located off of the East Side Esplanade path can be steep and/or slick. The lower floating dock that made launching easier for kayaks and canoes has been removed due to damage, so getting in and out of your boat can be challenging here. You can also launch from the small beach under the Hawthorne Bridge, but it is a long carry from the parking area. There are restrooms at Cathedral Park near the boat ramp.

Admire 8 of Portland's iconic bridges from a unique perspective while paddling past massive ships, and observing riverside industry both past and present. This industrialized stretch is undergoing a significant cleanup due to its Superfund designation. Thousands of cubic meters of contaminated sediment will be removed over time. The wildlife here may surprise you.

Cathedral Park can be accessed from North Edison Street and Pittsburgh Avenue at the east side of the St. Johns Bridge.