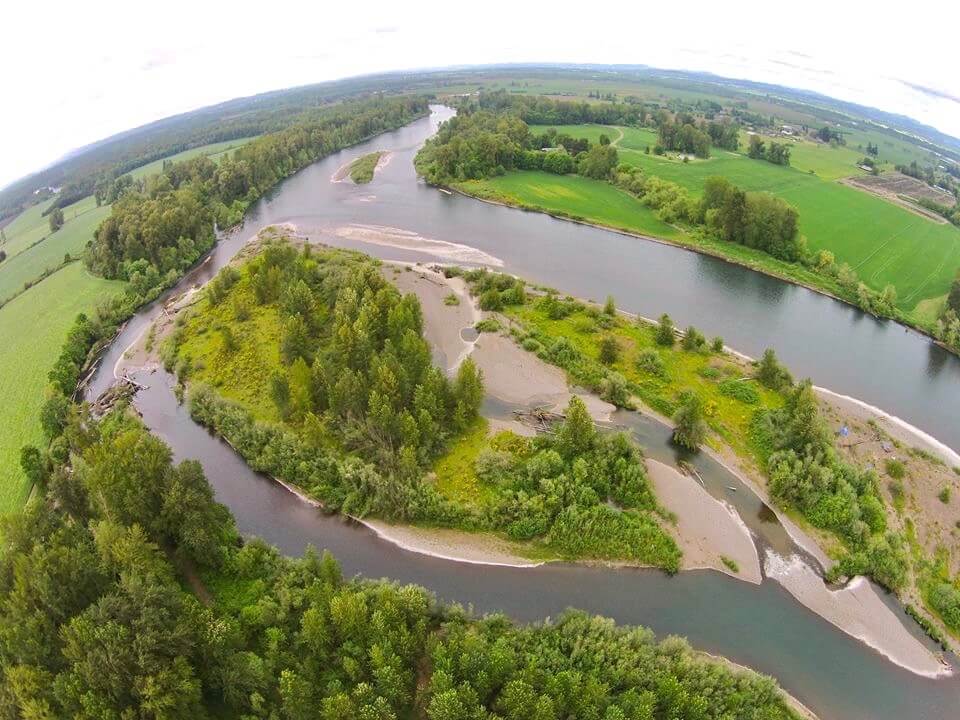 About the Willamette River
From the high mountain stream and lakes make their way down into the Willamette Valley, to the wide open space of the valley, the Willamette makes its way northward nearly 200 miles. The river is fed by high mountain tributaries, such as Salt Creek, and lakes like Waldo Lake, with an elevation at 5400 feet. Many tributaries feed the river as it moves northward, from the Luckiamute flowing from the Coast Range, to the mighty and wild McKenzie River fed in part from springs high in the Cascade Range.
The Willamette's upper stretch is typically dynamic, with fast, shallow currents rushing between small gravel islands covered with Pacific willow. The river retains this aspect in places as it moves northward and widens into the valley, with occasional pools of slower water appearing, yet with a consistent strong current between Eugene and Corvallis. In between the cities are wide open areas of farms located in the floodplains. Here too floodplain forests are found, often with terrific habitat for wildlife. As the river slowly grows and widens, the speed of the current typically decreases north of Salem, and then by the Yamhill River the gradient of the river flattens out, slowing further, and you enter a stretch called the Newberg Pool.
Soon the pastoral river gives way to suburbia, and then at Oregon City, at River Mile 26.5 the river tumbles nearly 30 feet down a basalt face of rock known as Willamette Falls. Here native peoples used to fish for salmon and lamprey. Some still do. Shortly downstream, the Willamette enters the Columbia, but 2 miles shy of this confluence, Multnomah Channel forks to the NW, meandering 20 more miles to the Columbia, and in the process creating Sauvie Island.
Key Facts
Length
The Willamette mainstem is 187 miles in length.
Number of Campsites on Mainstem
Approximately 50, though some of these sites can have multiple campers spread out amongst them.
Size
The river is the 13th largest in the lower 48 states by flow volume.
River Basin
11,478 square miles in size.