Willamette Narrows
Safety Alert:
This trip is most accessible to beginner paddlers at lower water levels when there is less current. At higher river flows, like the winter and early spring, this trip is best for intermediate or advanced paddlers. The basalt islands constrict the flow of the river and can create very "swirly water" and strong, dynamic currents at higher flows (although some experienced paddlers come here for that very purpose!). Also, high flows make the paddle upstream to the islands much more challenging (to near impossible) depending on the levels. Also note that if you walk around the islands, beware of poison oak!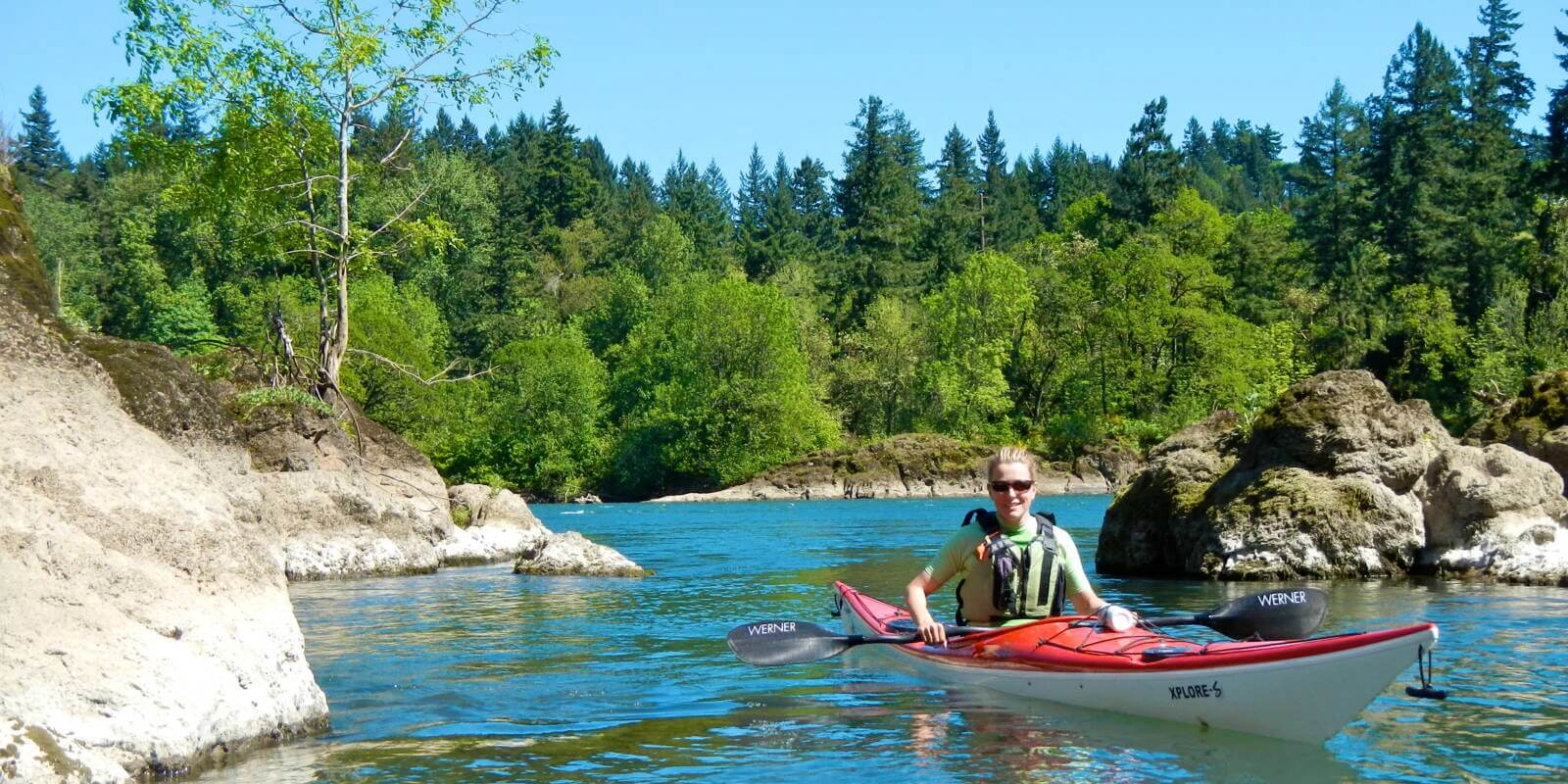 Bernert Landing
Bernert Landing

Located about 3 miles upstream of Willamette Falls, the Willamette Narrows features some of the most unique geology and habitat along the entire mainstem river! Most of the property in this area consists of scenic natural areas owned by Metro or the Nature Conservancy. We love that you can explore a beautiful area of the river while not having to set a shuttle, since you can paddle in a loop (for the most part, see "safety alerts").

At most times of the year, you may paddle out and back from Burnert Landing, also refered to as "Willamette Park in West Linn" by locals. Skip the traffic at the boat ramp and instead park in the porous parking lot located at the base of the hill as you drive down into the park. From there, carry your paddle craft a short distance to a small beach located next to the mouth of the Tualatin River. Paddle upstream about a mile, along the west bank (river left), until you reach Little Rock Island. Explore the nooks and crannies between the basalt rock features as you make your way up the backchannel. Once clear of the channel, ferry across the river to explore Rock Island and the surrounding area before returning to Bernert Landing.
Boat Ramp

Public Dock/Transient Use

Restrooms

Trash Can

Vehicle Access/Parking

LoadingAlso know as Willamette Park in West Linn, this property makes an excellent put-in for a short trip up to Willamette Narrows and a great take-out for longer trips. You…

31-30
45.31991
-122.66156

LoadingRock Island (67 acres)and Little Rock Island (12 acres) make a great suburban getaway. The area has madrone and oak-covered hillsides and rock faces overlooking the deep and relatively narrow…

29-31
45.31408
-122.66561

LoadingThis 469-acre property, which is owned by Metro and the State of Oregon, is a fantastic natural area. Paddlers can take out in the small embayment immediately above the landing…