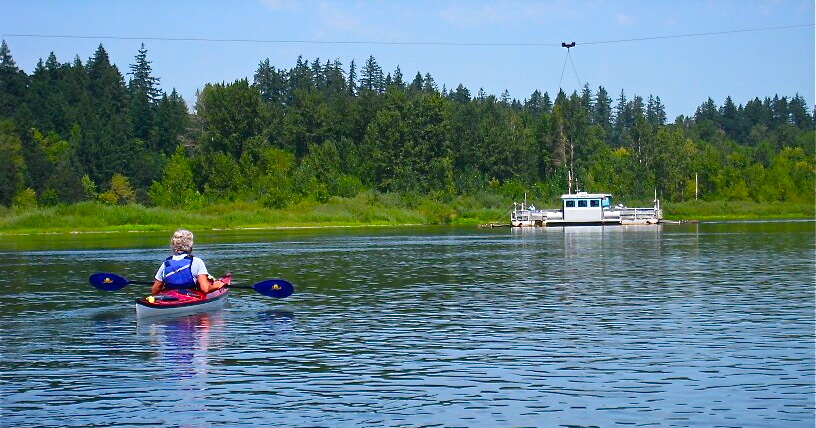 Bryant Park - RM 120
Independence Riverview Park - RM 96

You can see an abundance of wildlife and experience the confluence of the Luckiamute and Santiam Rivers near Luckiamute State Natural Area, and also enjoy a tasting and tour at the riverside Chatoe Rogue Hop Farm.

This is a large open section of river with only a few areas of fast moving water.

There is parking and restrooms at both Bryant Park and Takena Landing in Albany. By calling ahead, you can get permission to park overnight. Independence has free parking and restrooms.

This trip can be done overnight, as there are campsites along the way.

Also, not to be missed is a visit to "Chatoe Rogue Hop Farm", located on river left at approximately RM 102, four miles down stream of the Buena Vista Ferry. Independence, OR used to be the hop capital of the world. Today, Rogue Brewery operates a sizeable hop farm, tasting room, & B&B on site of the 100 year old John Hass Aluvial Hop Farm. The farm is surrounded by cherry and filbert orchards and is home to several osprey nests amidst bean and wheat fields.

While Rogue has a PRIVATE beach, and there is NO camping, you are welcome to land your paddle craft to visit the tasting room and to have a bite to eat (note: you may not use their beach as a put-in or take-out location). Call ahead if you are interested in scheduling a tour of this historic Hopyard and facility. Please contact "Executor of Hoppenings" Tarah Fair at 503-838-9813 or email tfair@rogue.com.