Willamette Falls from Sportcraft Marina
Safety Alert:
During higher river flows, there can be significant current and turbulent water as you paddle towards the falls. Such conditions are better suited for experienced paddlers. Also, this is a popular area for a variety of fisheries. There can be many motor boats in the water during fish runs, and lots of fishing lines in the river. Be sure to give boaters plenty of space, and stick to the shoreline if possible so as to not interfere.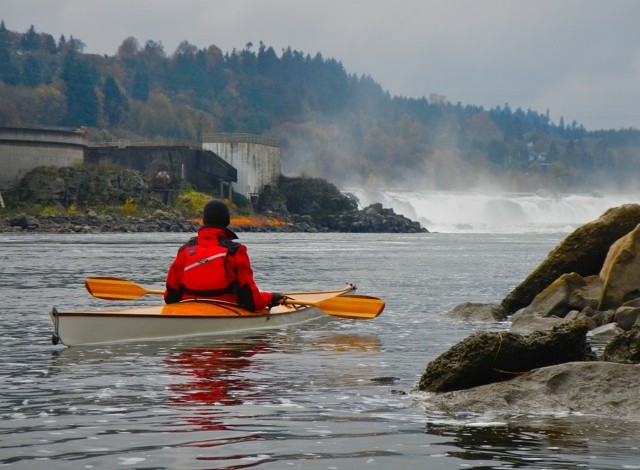 Sportcraft - RM 24
Willamette Falls - RM 26.5

Willamette Falls is the largest waterfall in the Pacific Northwest by water volume, second largest in the United States behind Niagara Falls.

Good for canoes and kayaks at low summer flows. There is relatively little current along this stretch and only a small amount from the falls. Paddlers must be aware of powerboats and wakes rebounding off hard surfaces, like cement revetments.

There is parking at both Sportcraft Marina and Clackamette Park, with a portable toilet at Sportcraft and restrooms at Clackamette.

This horseshoe shaped basalt waterfall is caused by a basalt shelf in the river floor and is 1,500 feet wide and 40 feet high. The falls is a traditional fishing site for many Native American tribes and was once a center for trade. Today, the Grand Ronde Tribe owns the south/east area where Blue Heron Paper once operated. Over time this whole area will be redeveloped in a public/private partnership and includes a river walk. The Metro Regional Government, and of course the Tribe are central to this new effort.

On this short trip you have the opportunity to see the connection between industry and the Willamette, catch a glimpse of a leaping sturgeon or salmon, and the historic Willamette Falls Locks (which are no longer in operation).

Put-in at the boat ramp at Sportcraft Marina, 1701 Clackamette Drive, Oregon City. You can also access the river from Clackamette Park or Dahl Beach, just downstream.
Boat Ramp

Vehicle Access/Parking

LoadingThis area is currently a staging area for the I 205 Abernathy bridge improvements due for completion in 2025. the marina and boat ramp are is still accessible, but most…